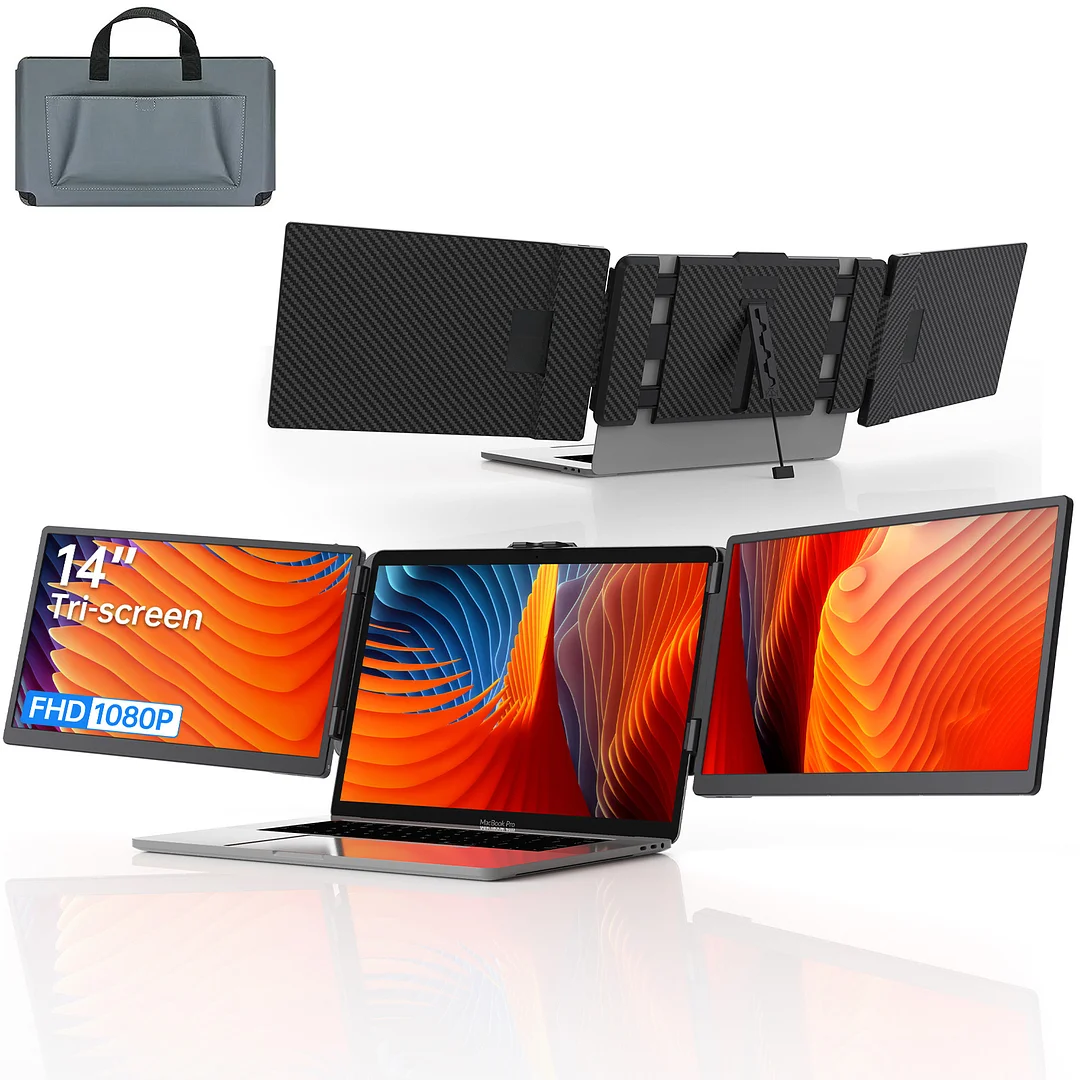 ${data.index + 1}/6
· WIDE COMPATIBILITY + 1 YEAR WARRANTY】 FICIHP S2 laptop triple screen extender is driver-free and plug-and-play. It supports a wide range of devices and operating systems, including Intel, AMD, Android, Windows, Type-C phones, PS4, Xbox, Switch, M1 Pro/Max, M2 Pro/Max, and other processors (Not for ARM, M1, and M2). The high-quality material undergoes 100% QC and is FCC, CE, and RoHS certified. 24hrs friendly service and a 1-year replacement warranty to ensure your purchase with confidence
· Triple Screen Setup: Ficihp triple monitor for laptop extends your laptop to a multi-screen setup, enabling simultaneous or differential display. This feature allows you to efficiently handle multiple tasks such as spreadsheets, video conferencing, gaming, and more, all on a single laptop. Whether you are a student or a professional, whether you are indoor or outdoor, Ficihp triple monitor laptop improves your work efficiency by up to 300%
· Increase Viewing Comfort】3 screen monitor for laptop is equipped with a high-quality 14-inch full HD 1080P IPS panel, with excellent viewing angle and eye protection features, with a blue light filter, anti-glare technology and brightness-adjustable function to prevent long-term eye fatigue, and also for users Provides a rich and colourful visual experience. A bright and immersive movie-watching experience!
· Multi-setting and Multi-mode】With the Ficihp portable laptop extended monitor, each screen can be adjusted for brightness, sound, contrast, and other parameters. Enjoy a traditional viewing experience in Landscape Mode or switch to Portrait Mode for reading documents or coding. Presentation Mode enables 360-degree screen sharing with others.
· Compact Design and Expandable Bracket】Our tri-screen monitor for laptops features an easy-to-use stretchable structure, allowing it to easily attach to your laptop without the need for any additional accessories like magnets. You don't have to worry about it falling off. The back of the monitor is equipped with an expandable bracket, which not only keeps your laptop stable but also allows you to adjust it to your preferred viewing angle.